Plano, TX hair transplant surgeon, Dr. Joseph Yaker, offers nonsurgical therapeutic hair care solutions that help men and women restore the health and pH balance of their hair. His special Hair Rejuvenation System consists of a low pH shampoo (pH 3.4) and conditioner (pH 4.0) that restore vitality to the hair by deep cleaning the scalp and reestablishing the moisture content and physiological pH that is needed for healthy hair growth.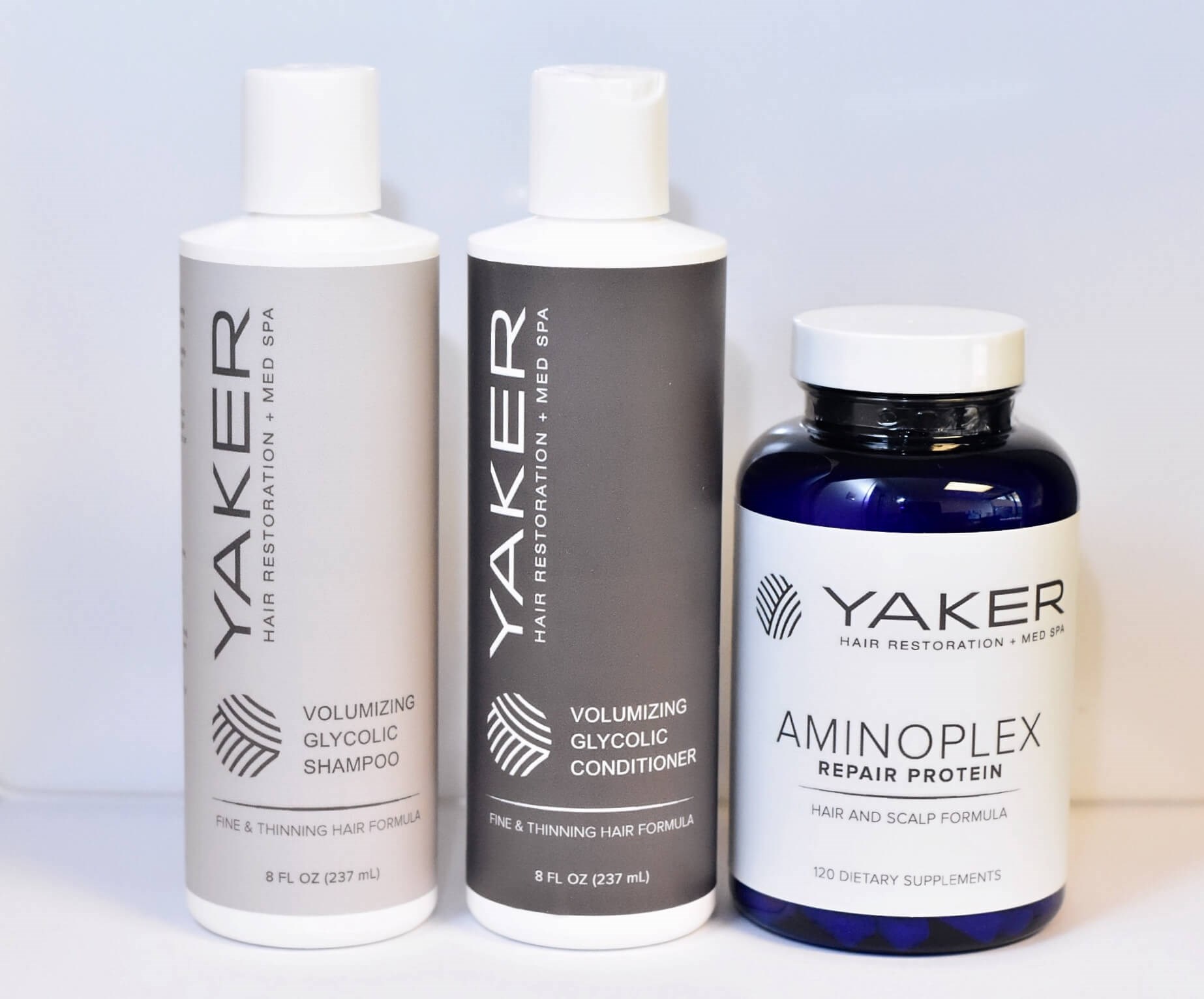 The pH level of your skin, including your scalp, is between 4.5 and 5.5, which means it is more acidic. Actually, your skin has a "film" on its exterior called the "acid mantle." The purpose of the acid mantle is to protect your skin from contaminants, bacteria, and viruses and other environmental toxins. These attackers tend to be alkaline in nature, so the role of this acidic mantle on your skin is protection, which it accomplishes by dissolving the harmful particles trying to penetrate it. This is why maintaining your skin's naturally acidic pH is important. Using shampoos and conditioners that are too alkaline can destroy the protective acid mantle. Unfortunately, the average pH of the typical name brand shampoo and conditioner is over 6. Because of the damage it does to the acid mantle, cleansing with shampoos and conditioners that have a pH over 5.5 is harmful to your scalp and inhibits proper hair health and thus hair growth and texture.
In addition, each day we build up dead skin cells, oil, sweat and hair products that form a plaque that sits on top of our scalp. This plaque causes our scalp pH levels to rise, leading to certain scalp conditions such as clogged follicles, bacterial infections, dry scalp, oily scalp, dandruff and even hair loss. Also, if you already suffer form certain scalp conditions, you can develop chronic flare-ups. Moisture retention is pH dependent. Maintaining an acidic pH less than 5.5 causes the hair cuticle, the outside layer of your hair shaft, to flatten and seals the moisture into the hair shaft leading to richer, fuller hair. Most shampoos and conditioners have higher pH levels leading to hair shaft swelling which opens up the hair cuticle leading to loss of moisture and hair shaft damage, as well as dry, frizzy hair.
Hair and Scalp Therapy Reviews
"I have thin,fine hair and have tried prducts to thicken it. Nothing worked ! Then I tried Dr. Joseph Yaker's Formula 82 M, also his vitamins,shampoo and conditioner. Formula 82 M is a liquid that you put on your scalp twice daily. In four months it kicks in. My hair colorist,,hairdresser and shampoo girl cannot believe how thick it is now. Wonderful product and I would highly recommend.."
- S.J. /
Google /
Jun 27, 2015
"I started losing hair fast, no reason, no thyroid problem. Dr yaker suggested me to use laser cap, his hair care product line and hair formula to apply on scalp. In few months, I saw a big difference , lot of new hair growth, hair texture improved also. Thank you so much , doctor."
- R.L. /
Yelp /
Jun 13, 2016
"Dr. Yaker's PRP procedure, together with his non-surgical products, have resulted in (what my husband and friends refer to as) a miraculous regeneration of my hair. I couldn't be more pleased, and will both repeat the PRP treatment and continue to use his products, probably, forever!"
- K.L. /
Google /
Nov 17, 2016
"Dr. Yaker was extremely personable as well as knowledgeable on hair and hair health. With his treatment plan that was tailored to my needs and requests, I have noticeable thicker and fuller hair within three months! His enthusiasm towards his work was very comforting. He truly puts the patient at the center of care he delivers and it doesn't go unnoticed! I would highly recommend him as your physician if you are struggling with the appearance of your hair!"
- N.F. /
Google /
Sep 29, 2015
"Dr. Yaker and his staff are friendly, welcoming and professional. Everyone greets you with a smile and remembers your name. His offices and procedure rooms are always clean. Dr. Yaker is extremely knowledgable and willing to spend as much time answering questions and discussing options with his patients as they desire. I use Dr. Yaker's hair vitamins and shampoo and conditioner and have definitely seen positive results. So far, I have had two PRP treatments done by Dr. Yaker and he and his staff always take care of me and make me feel comfortable. I have recommended him to many of my friends and family. He's the best!"
- Anonymous /
Vitals /
May 14, 2016
Previous
Next
ABOUT DR. YAKER'S HAIR REJUVENATION SYSTEM
Dr. Yaker's Hair Rejuvenation System's unique delivery system utilizing glycolic acid in a low pH formula is proven to reinforce the roots and improve hair structure, repair and restore pH balance to the scalp, and generate body and volume. It can safely be used for fine, thinning or chemically treated hair.
Glycolic acid is a scientifically advanced skin care ingredient that is derived naturally from sugar cane. It is commonly used in facial cleansers due to its powerful exfoliating ability. In addition, it functions to repair the surface of the scalp by loosening and sweeping away oil (sebum), dirt, bacteria and dead skin cells from the scalp and hair. This process restores overall body, thickness and manageability for visibly healthier hair. It also restores moisture content and pH of the scalp and hair to create an environment suitable for hair follicle growth.
AMINOPLEX HAIR REPAIR PROTEIN SUPPLEMENTS
Around 97% of our hair is comprised of a structural protein called keratin. Aminoplex is a completely natural oral supplement formulated with specific amino acids (building blocks of protein) that produce keratin. It rejuvenates brittle and thinning hair for a visibly thicker, healthier appearance.
Hair grows from the inside out, and so does hair health. That's our approach with the Hair Rejuvenation System. The Aminoplex supplements work to nourish hair with essential amino acids, while the volumizing glycolic acid shampoo and conditioner go deep down to treat the conditions that rob your hair of moisture and vitality, restoring body, shine and volume.
While shampooing your hair is extremely important to maintain the health of your hair, it is of equal, if not of greater importance, to effectively cleanse your scalp to remove the build up of debris you develop daily.
It is often thought that frequent shampooing can dry out the hair's natural oils (sebum). Your hair's natural oils sit on top of your hair shaft but don't penetrate the hair cuticle like water does. So proper daily shampooing with low acidic hair products don't strip your natural oils, they hydrate your hair. It's moisture (water) and not your hairs natural oils that keep your hair supple. In addition, your scalp and face produces the most amount of oil (sebum) compared to any other part of the body. So it's important to cleanse your scalp daily, the way the skin all over the body requires cleaning for good hygiene. You take your hair and scalp to the same places you take your face, and it gets just as dirty.
It is completely normal to lose up to 100 hairs a day and a proportion of this hair falls out when you shampoo. The act of hair washing simply dislodges hairs that have already become detached from the base of the hair follicle and are ready to fall out. This can also occur with brushing and/or styling your hair. There is this misconception that frequent shampooing causes your hair to fall out so when people begin to shampoo less often, even more ends up in the shower since the hair that would normally come out daily now builds up on the scalp. The simple solution is to shampoo every day and the excess hair in the shower will go away.
Plan Your Procedure
Average Cost

From

$75

Procedure Recovery Location

Out-Patient
Contact Us