Hair loss, while common, can be distressing for many individuals. When nonsurgical treatment methods are not enough to slow, stop, or restore hair loss, there are other effective solutions worth considering. Plano, TX hair transplant surgeon, Dr. Joseph Yaker, performs Follicular Unit Extraction (FUE) for patients desiring fuller, natural looking hair. FUE is a minimally invasive hair restoration surgery that uses advanced technology to track and extract hair follicles with precise accuracy and control. The process involves using a small (0.8mm - 1.0mm), rounded instrument or "punch" to remove individual hair grafts. While the FUT ("strip method") procedure produces wonderful results, the FUE procedure is often preferred because it is minimally invasive as it does not involve the use of a scalpel or stitches, nor does it leave any noticeable linear scars to the back of the scalp. Dr. Yaker offers the state-of-the-art SmartGraft™ hair transplant system for FUE, a technology that blends art and science with technology to create outstanding outcomes for both men and women that last a lifetime.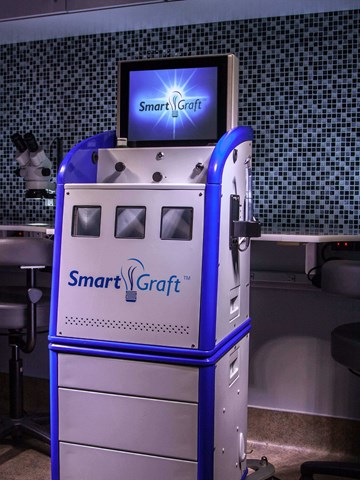 Dr. Yaker is proud to be the first in Texas to offer his patients the most innovative, automated surgical FUE technology. Using the SmartGraft™ system, individual hair follicles are gently removed by an advanced, suction assisted hand-piece. These follicles are then safely collected and stored in a temperature controlled, sterile holding solution. These hairs remain hydrated and robust, while awaiting implantation.
Since the SmartGraft™ FUE is a minimally invasive procedure, it does not require a scalpel or stitches, and it leads to virtually zero discomfort for the patient. As a result, this superior method allows for shorter procedure time, enhanced patient experience, and faster recovery.
SmartGraft™ FUE is recommended for both men and women of all hair colors and textures that do not want an invasive hair transplant approach. It is performed on patients with advanced hair loss, as well as those who wish to increase thickness to thinning areas. Patients that wear their hair short and live an active lifestyle will also benefit from this approach. Dr. Yaker can also perform SmartGraft™ FUE to help achieve aesthetic improvements to the scalp for patients who have scarring such as from a previous FUT hair transplant procedure where a linear scar resulted.
SmartGraft™ FUE Reviews
"Dr Yaker and his entire team were incredibly professional and a pleasure to work with. He explained the entire process of helping restore a fuller and healthier hairline to me, and I couldn't be more pleased with the experience and results. My highest recommendation to Dr. Yaker and his entire team."
- C.T. /
Google /
Mar 04, 2016
"I had my Fue Smart Graph procedure with Dr.Joseph Yaker this was my first hair transplant ever. After having a terrible prior experience at Hairclub for men I was very nervous. I think going to Texas Center For Hair Restoration in Plano was the best decision of my life. They did an incredible job Dr.Yaker and his team a true artist and are very passionate of their work , they made me feel that there was a solution for my hair loss and that tgey actually do care. I personally believe that I was blessed and the job that Dr.Yaker and his team did where the closest thing to a miracle."
- S.L. /
Google /
Mar 06, 2016
"I began losing my hair at age 20. I'm almost 30 years old and my hair has thinned out drastically. Other hair restoration clinics would only suggest laser cap therapy. I watched a show about PRP therapy, googled it and found Dr. Yaker's website. I made an appointment and was very pleased with the options that were available. About 5 weeks later I had a fue smart graft hair transplant. The procedure was absolutely painless. Dr. Yaker and his staff are wonderful and I couldn't have picked a better place to get this done. The recovery was great and I went back to work 3 days later. I regret not doing this sooner. It's been 6 weeks since the procedure and I'm very happy with the results so far. I can't wait for the final results. I would recommend anyone looking to get this procedure done to visit Dr. Yaker."
- J.T. /
Google /
Mar 17, 2016
"The factors that set TCHR above all others include Dr. Yaker's highly informative consultation in addition to the attentive staff.  Having had a FUT procedure about a decade ago, I was familiar with much of the process.  I had wanted to have additional restoration procedure since but had given up due to every facility I contacted focused on price, brief description of service, and nothing else. Dr. Yaker is the first to provide various options to hair restoration, plus specific information and remedies to maintain my own healthy hair as well as the relocated follicular hair.  He dispels many of the myths about various products and services in addition to offering a great deal of information about hair maintenance.  Information never even touched upon when speaking with other facilities.Just as I had about given up on finding a confident hair restoration professional, I was fortunate to find TCHR.  My services included platelet replacement process, not offered anywhere else I had researched, in addition to the FUE replacement procedure which was so much less an ordeal than what I had experienced previously.  In addition the services include low level laser therapy plus the aforementioned regime so to continuously restore vitality to my hair by providing product to improve the structure, scalp deep cleaning, and prevent potential future hair loss.Dr. Yaker is absolutely the one hair restoration expert I found to show the utmost care and attention to a patients personal needs in this personal, not to mention sensitive, area of expertise.  K. Gelay-Yeager"
- K.G. /
Yelp /
Jun 16, 2016
"The friendly staff is happy to answer any question you might have, and does a superb job throughout the entire procedure.Dr. Yaker himself is a very personable physician and did a fantastic job on my FUE procedure. I'd recommend him and his clinic to anyone interested in the several forms of hair maintenance and replacement they offer."
- T.R. /
Google /
Oct 05, 2016
Previous
Next
With so many promising hair loss treatments available today, it can be challenging to find the best one. Dr. Yaker understands this and it is his goal during the consultation to provide as much information as possible so that each patient feels confident they are making the best personal choice. The majority of SmartGraft™ FUE procedures start in the morning at Dr. Yaker's accredited surgical facility, and end in the late afternoon—the length of time varies depending on the volume of hair being transplanted. Our team will use a local anesthetic and an oral sedative during treatment. Patients are encouraged to wear comfortable clothing and are able to watch TV or listen to music during the procedure.
During the consultation, Dr. Yaker will go over the aesthetic goals of the patient, and be able to provide an approximate number of grafts that will need to be extracted to obtain the desired results. The donor area where the hair will be extracted is located in the back of the head, as this is an area where hair growth is constant and permanent. For medium-to-large SmartGraft™ FUE cases, the entire back and sides of the scalp may need to be shaved. For smaller cases (less than 1,000-1,200 grafts) patients may only need to have a small, strip of hair shaved, which will be camouflaged by the hair above it. As a result, the shaved donor areas will not be noticeable at the conclusion of the procedure. The donor hair, removed in follicular units, typically includes a group of about 1 to 4 hairs. The hair removal process is performed in a meticulously randomized pattern, so that the hair around the extracted grafts will grow back and camouflage the virtually undetectable, flat "micro-dots" left from the SmartGraft™ FUE procedure. Once transplanted, each hair follicle will grow permanently in its new location.
The transplanted area, or recipient sites where the donor hair will be relocated to, are artistically created by Dr. Yaker, according to the correct angle, depth, orientation, and density required to achieve natural results. The number of grafts and/or number of procedures required to achieve the patient's desired look depends on individual patient characteristics, such as degree of hair loss, donor hair quality and texture, and follicular density.
PRP, or platelet rich plasma, is a concentrated mixture of powerful growth factors that is produced from a small quantity of the patient's own blood. Dr. Yaker bathes the extracted hair grafts and injects this concentration of growth factors into the treated areas to help with tissue repair, healing, and hair growth.
Because SmartGraft™ FUE is minimally invasive and does not require the use of a scalpel or stitches, there is minimal post-operative pain. Most patients can return to their normal activities within 1 to 2 days. It is important to follow Dr. Yaker's specific post-operative instructions to ensure effective and proper healing and hair growth. Patients are provided with a customized post-operative kit, which includes a specialized hair follicle growth spray, Dr. Yaker's very own therapeutic shampoo, conditioner, and specific amino acid complex hair repair supplements. On the first day following the procedure, small scabs the size of a pinhead surrounding the transplanted hair follicles will likely be visible. These scabs usually go away within 7 to 10 days. Patients should expect to see the donor site at the back of the head return to normal about 7 to 10 days after surgery. A few weeks after surgery, the transplanted follicles enter a resting phase that lasts for 3 to 4 months, and will fall out to make way for new, healthy hair. This is to be expected. The follicles are alive and healthy under the skin. At this point, most patients will look very much like they did prior to surgery until the new hairs begin to grow.
New hair growth begins about 3-4 months after the procedure. By 7 months, around 50% of the newly transplanted hair begins to grow, and by 9 months, close to 80% of the hair grafts will be growing. By 12-18 months, the areas where hair loss once occurred will be filled in with thicker and fuller hair, leaving patients excited about their results.
The cost of SmartGraft™ FUE will depend on the amount of grafts needed to fulfill the patient's goals. Sometimes, multiple sessions may be needed to achieve the proper coverage and/or density requested. General pricing can range from $6-$8 per graft. Determining the cost of your hair transplant procedure depends on the degree of hair loss, and the number of grafts needed. For some patients, 1,000 grafts are enough to make a noticeable difference. For others, as many as 3,000 or more may be needed to attain the desired results.
Plan Your Procedure
Average Cost

From

$6,550

Recovery Time

3-4 Days

Average Procedure Time

Varies

Procedure Recovery Location

Out-Patient
Contact Us
With the SmartGraft™ advantage, natural appearing hair restoration is crafted with a delicate touch and allows Dr. Yaker the ability to use his artistic eye to create life-changing, permanent results. Patients can wear their hair any length or style, as the transplants produce natural, normal hair growth. It's important to note that hair loss is a progressive disease and that hair transplant surgery does not stop non-transplanted hair from continuing to thin and eventually bald. Therefore, further nonsurgical and/or surgical treatments may be needed to keep up with the rate of continuing hair loss.
Does SMARTGRAFT™ FUE Scar?
The extracted grafts removed during the hair removal process will leave virtually undetectable, flat "micro-dots". While SmartGraft™ FUE does not result in any noticeable scarring, these tiny "micro-dot" scars may be visible if the hair is completely shaved. You may shave your hair down to 1/8th of an inch (1 guard on an electric razor) without anyone noticing your scars.
The SmartGraft™ FUE technology can be performed on any color and type of hair. During the consultation, Dr. Yaker will specify any special requirements that must be taken prior to surgery.
Small graft extraction using the SmartGraft™ FUE approach offers numerous benefits, including:
Minimally invasive without the use of a scalpel or stitches
Precise and efficient extraction, collection, and storage of hair grafts
Minimal post-operative pain
Quicker recovery
Virtually undetectable flat "micro-dot" scarring
Regardless if a patient decides to go with SmartGraft™ FUE or FUT ("strip method"), the results will appear similar. The difference is in the graft extraction technique along the donor area. You can learn more about the differences between these techniques by visiting our FUT/SMARTGRAFT™ FUE comparison page.
Get a Fuller Head of Hair!
If you are experiencing thinning hair or balding and are living with anxiety over losing your hair, we encourage you to call our office today. Dr. Yaker will provide you with a thorough consultation and a detailed treatment plan, to provide you with an effective, lasting solution.
Related Procedures