Plano, TX hair transplant surgeon, Dr. Joseph Yaker, is a male hair loss specialist and hair transplant surgeon who offers both nonsurgical and surgical treatments for men who desire hair restoration. Hair loss among men is more common than you think. In fact, more than 50 million men in the U.S. will experience some degree of hair loss at some point in their lives, with 50% having noticeable hair loss by the time they are 50. Unfortunately, hair loss does not become detectable until around 50% of one's normal hair is lost. Because of this, oftentimes, men don't seek help until they have lost a significant amount of hair.
Male Hair Loss Reviews
"Dr. Yaker has fantastic bedside manner and is was very personable! His knowledge of hair restoration is very impressive. His office staff are great to work with. Dr. Yaker performed PRP procedure on me about 6 months ago, last August and September. The procedure took less than 45 minutes, it was easy and painless. My wife tells me that my hair thickness and look has improved. I understand that it takes a bout 12 months to see full results for PRP procedures, I am looking forward to that. I would highly recommend him."
- A.D. /
Doctor.com /
Mar 09, 2016
"Best decision I ever made!!! My hair was thinning and the thought of shaving my head was not an option. . Dr. Yaker made the experience simple and easy and was with me every step of the way. Just went in for my 1 yr follow up and seeing the photos from start to finish is amazing. I now have a full head of hair!"
- J.A. /
Yelp /
Dec 08, 2016
"Dr. Yaker, Nhanh and everyone else at TCHR are so nice and they genuinely care for their patients. I feel so lucky I came across them on google and I am so excited that I get to keep my hair. For the past few years I have tried various products including generic finasteride and rogaine but nothing worked. I slowly kept loosing hair and and I would get stressed about loosing hair! Last year, I finally started searching around and I found Dr. Yaker's office. He is easy to talk to and has a very conservative style of treatment. I thought I would need some sort of surgery but he actually suggested a non invasive/inexpensive approach (Formula 82M and finasteride plus) I am impressed. Its been one year and my hair is significantly thicker and some hair has grown in the back. I highly recommend him!"
- A.B. /
Google /
Oct 30, 2017
"Dr,Yaker performed strip surgery on me, 2900 grafts about a year ago. The surgery was flawless, painless and in about 2 months new hair began, in 6 months the transplant appeared near complete, by a year there was even more new hair. And the graft line has vanished. I'm 150% satisfied. My wife has always said that I'm good at finding the best doctors. She's right. I'm 69 and people tell me the new hair has rolled back 10 years."
- G.S. /
Google /
Jun 26, 2015
"I began losing my hair at age 20. I'm almost 30 years old and my hair has thinned out drastically. Other hair restoration clinics would only suggest laser cap therapy. I watched a show about PRP therapy, googled it and found Dr. Yaker's website. I made an appointment and was very pleased with the options that were available. About 5 weeks later I had a fue smart graft hair transplant. The procedure was absolutely painless. Dr. Yaker and his staff are wonderful and I couldn't have picked a better place to get this done. The recovery was great and I went back to work 3 days later. I regret not doing this sooner. It's been 6 weeks since the procedure and I'm very happy with the results so far. I can't wait for the final results. I would recommend anyone looking to get this procedure done to visit Dr. Yaker."
- J.T. /
Google /
Mar 17, 2016
Previous
Next
Emotional Impact of Hair Loss
Because a full head of hair is sometimes viewed as youthful and a semblance of strength, when a man begins to lose his hair, stress, frustration, and a loss of self-esteem can settle in. More than just aesthetics and appearance, many men feel powerless because they cannot control their hair loss, and depressed because they feel that the loss has to do with their mortality and a passage of time. Hair restoration helps countless men overcome these feelings by creating fuller, thicker hair.
The most common type of hair loss among men is male pattern baldness, known as androgenetic alopecia. This affects up to 80% of men by the age of 80. It is a condition caused by age, genetics and a specific hormone called DHT (dihydrotestosterone) that attacks hair follicles leading to a disruption of the normal hair growth cycle. This disruption causes follicles to shrink and grow at a slower pace, eventually leading to the hair falling out and the pattern repeating itself with other hair follicles in other parts of the scalp. This process can affect the entire scalp, except for the hair at the back and sides of the head, which is not subject to male pattern baldness. This is a genetically permanent zone, which makes it a viable solution to be used for hair transplant surgery.
Unfortunately, the onset, rate, and severity of hair loss are often unpredictable, but we do know that hair loss may begin at any time after puberty when blood levels of male hormones rise. In most cases, male pattern baldness starts in the late 20's and early 30's. It is usually subtle at first, followed by alternating periods of slow and rapid hair loss, interspersed with periods of stability. Loss of hair in the frontal area is usually the first place where hair is lost. This usually involves receding of the hairline near the temple areas, which forms an "M" shape. In some men, the loss stops there and never progresses, while in other men, hair loss continues into other areas of the scalp, including the crown. Eventually, these two regions may merge until the entire front, top and crown area are bald, resulting in a U-shaped or "horseshoe" pattern of hair around the sides of the head. Ultimately, hair follicles, even those with no genetic predisposition, may succumb to the effects of either the DHT-driven miniaturization process or from age-related volume loss, which is why most men in their 70's and 80's will show some signs of hair thinning or hair loss.
Norwood Classification Scale
The Norwood Classification Scale has been developed as a universal way to identify a man's stage of hair loss. It breaks down male pattern baldness into distinct categories ranging from Stage 1, meaning no hair loss, to Stage 7, depicting near total hair loss with hair remaining only around the back and on the sides of the scalp ("horseshoe" pattern). Most cases of male pattern baldness follow this pattern although there are other rare patterns such as overall thinning throughout the top of the head. The Norwood Classification Scale categories include: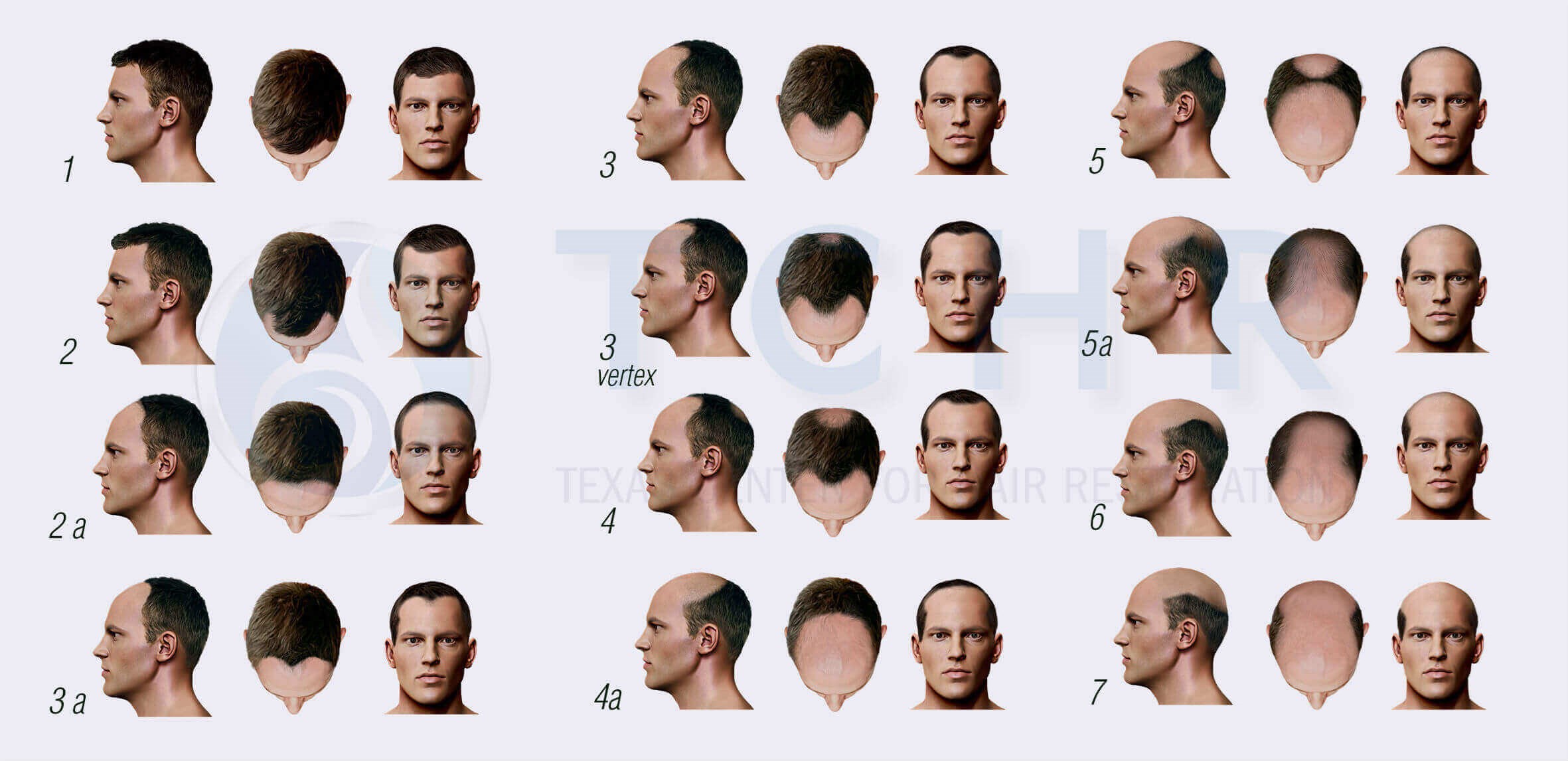 Stage 1 represents an adolescent or juvenile hairline with very minor or no recession of the hairline. Therefore, no treatment is required.
Stage 2 indicates a progression to the adult or mature hairline where there is a mild recession of the frontal hairline, slightly evident at the frontotemporal areas. This also does not represent balding.
Stage 2A represents the deepest recession of the frontotemporal hairline.
Stage 3A is characterized by the deepest recession of the frontotemporal hairline with more extensive thinning in the front.
Stage 3 is the earliest stage of male hair loss. It is characterized by a deepening frontotemporal recession producing a 'M' shaped pattern. These areas are completely bald or only sparsely covered by hair.
Stage 3 Vertex represents early hair loss primarily in the crown (vertex).
Stage 4 is characterized by further frontal hair loss and enlargement of vertex, but there is still a solid band of hair across the top (mid-scalp) separating the front and crown.
Stage 4A is similar to Stage 4 only with more thinning on the upper and frontal part of the scalp.
Stage 5 shows worsening hair loss in the front and crown, and the bridge of hair separating the two areas begins to break down. When viewed from above, stages 5 to 7 show the remaining hair at the sides and back as a distinct horseshoe shape.
Stage 5A is similar to Stage 5 only with extended thinning on the upper and frontal part of the scalp.
Stage 6 occurs when the connecting bridge of hair disappears with only minimal hair remaining. The hair loss on the sides of the scalp has extended further.
Stage 7 is the most severe form of hair loss. Only a narrow band of hair remains on the back and sides of the scalp. This hair may be quite thin.
Diagnosis of Male Hair Loss
The diagnosis of typical male pattern baldness is diagnosed based on the appearance and pattern of hair loss. A comprehensive medical history, including a list of medications, history of hair loss, and a thorough scalp examination is performed. This evaluates the degree of miniaturization of hair follicles and is done to rule out medical conditions, skin disorders of the scalp or nutritional deficiencies that may lead to hair loss. Health and/or skin conditions that could lead to hair thinning or hair loss may be associated with scalp itching, redness, tenderness, skin peeling, hair breakage, patchy hair loss, sudden hair shedding or an unusual pattern of hair loss. A scalp biopsy may also be performed if the cause of hair loss is uncertain or there is a concern for scarring alopecia. Dr. Yaker utilizes specialized hair and scalp scanning technology to assess the distribution of hair loss, hair architecture, and scalp surface. Using a hand-held digital microscope and intelligent trichology software, Dr. Yaker generates a detailed measurement of hair thickness, hair lengths, and how much hair is present in a particular area.
Male Hair Loss Treatments
Thankfully, men's hair loss can be effectively treated with today's advanced nonsurgical and surgical treatment options. After a diagnosis has been confirmed, Dr. Yaker will create a customized treatment plan depending on one's hair characteristics, the level of hair loss and the aesthetic goals of the patient.
Nonsurgical solutions include hair and scalp therapy using Dr. Yaker's TCHR Volumizing Glycolic Acid Shampoo and Conditioner. These products restore vitality to the hair by deep cleaning the scalp and reestablishing the moisture content and physiological pH of the scalp and hair. Dr. Yaker has also formulated his own blend of Aminoplex hair repair supplements. This completely natural oral supplement is made up of the amino acids (building blocks of protein) that produce keratin, which makes up close to 97% of our hair. In addition, Dr. Yaker offers specially compounded FDA approved medications such as Finasteride (brand name: Propecia®) and Minoxidil (brand name: Rogaine®) that are clinically proven to help slow down, stop and even reverse hair loss. Other nonsurgical treatments offered are Platelet Rich Plasma (PRP) with placenta-derived extracellular matrix therapy and low-level laser therapy (LLLT) to help restore thinning hair. Lastly, Dr. Yaker offers scalp micropigmentation (SMP), where the scalp is pigmented, creating micro dots to replicate the natural appearance of hair follicles. Incredibly, these nonsurgical treatment options work synergistically, resulting in significant hair improvements as compared to if one method were used alone.
For some patients, nonsurgical hair restoration methods may not be enough to restores one's hair loss, especially patients who have advanced loss. As a result, hair transplantation surgery would be the best approach to restore one's confidence and quality of life by restoring hair through extremely advanced techniques. Modern surgical hair restoration procedures such as Follicular Unit Transplantation (FUT) and Follicular Unit Extraction (FUE) allow surgeons to take hair from the back of the head and transplant it to the areas where balding has occurred. The reason why the hair does not fall out once transplanted in its new location is because the transplanted hair follicles take on the same characteristics as the hair in the area where it originated, which is the genetically permanent zone. Both approaches result in natural, everlasting outcomes. The primary difference between the two techniques is in the way in which the hair is extracted. Dr. Yaker will determine if you have ample, good quality hair in the permanent hair zone in order to be able to relocate those hair follicles to the areas of hair loss.
Plan Your Procedure
Procedure Recovery Location

Outpatient
Contact Us
Related Procedures